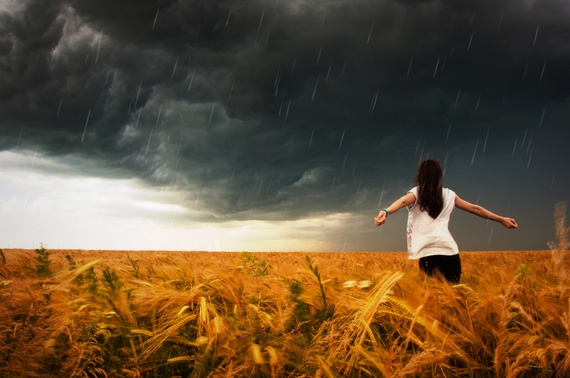 Photo by David Marcu via Unsplash
For many of us, this electoral season has been a storm of conflict and upset. And, of course, it's not yet over. But suddenly I feel the calm. And it's not because I believe that "my" preferred candidate will win. It's because I can feel the hand of destiny in this election.
We have exposed corruption in politics, the inequality in our economic system, abuse toward women and minorities, the sense of powerlessness of our working class, and more. And it's all out on the table. In fact, it's all on TV.
So why would that make me calm? Think of a time when you knew that something was wrong, desperately wrong, and no one would listen. Remember the anguish you felt, as you ranted, raved and perhaps surrendered in despair? How would you have felt if suddenly that injustice were exposed on television, the internet, radio, and social media, everywhere? You would still care and be upset, but you wouldn't feel muzzled, frustrated and totally exasperated. You would have hope that the real fight could begin, and , and you would feel supported to take action.
And that really speaks to this election. The important issues raised by both candidates - though often lost in a haze of nonsense - are still with us. Donald Trump is telling the truth about the system - even if it's to make himself look big. And Hillary Clinton wants to do something about it - even if her intention is not strong enough.
And that's where we come in. This is our time to make sure that the nonsense of the election doesn't drown out the truth. For example, we don't have to defend Obamacare. We can see its flaws, and we can go for real universal healthcare, which Obama may not have been able to achieve under his watch. We don't have to defend what Democrats or Republicans have done around the economy over the years - trickle-down economics, globalization without accountability to all workers (foreign and domestic), and more.
We can stop being partisan for two minutes and say, yes, Donald, immigration has been used to hurt workers, and what are we going to do about the exploitation of all workers, as opposed to how do we get rid of the immigrants? We can say, yes, Hillary, we need to invest in clean energy, and we need to stop fracking, drilling and putting profit over the environment NOW.
We may feel that we are given the choice between two candidates but we are not stuck in that box. Let's look at the truth of what the candidates say. Let's add the wisdom of our collective voices. And let's throw out the junk, the politicking, the pandering to special interests and the need to be elected. Because WE don't need to be elected. On the contrary, we need to be honest, visionary and determined. We may have felt the need to fight against the other candidate during this long turbulent time, but now we need to stop fighting the other side and start fighting together for the real changes that need to occur.
Trump, Sanders, Clinton and other supporters have a lot in common at our root. Let's calm down and do what we have to do. Let's make an Inner Revolution in every aspect of life. We need Oneness, Accountability and Mutual Support, because without it, we're just playing at the edge of the volcano that is destroying us physically, spiritually and emotionally. Check out our website to learn more. And check out "Humans for a Real Conversation," a series of meetings where we come together, toss the labels and see what we have in common and how we can not only save our endangered planet, but feed our collective souls.
Beth Green is founder of TheInnerRevolution.Org, host of Inner Revolutionary Radio on VoiceAmerica.com and creator of Beth Green TV & Radio on YouTube. You can download a free version of Beth's book Living with Reality at www.theinnerrevolution.org. And follow us on Facebook and Twitter where we're building an online community of people who are fighting for a revolution toward Oneness, Accountability and Mutual Support.
-- This feed and its contents are the property of The Huffington Post, and use is subject to our terms. It may be used for personal consumption, but may not be distributed on a website.