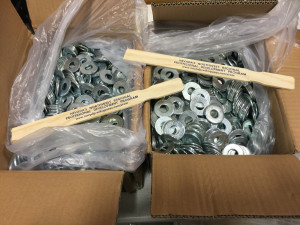 For those of you that have been in my trainings or read about our cantilever spans lessons, and wondered about supplies for them, I recently ordered 100 pounds of washers ( two 50 pound boxes – about 2200 washers total) and 1,000 paint stir sticks (or really as I found out paint "paddles") and today they came in.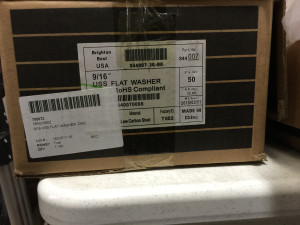 The washers cost $254.00 ($127 per box) and 1,000 paint paddles printed on one side were $125. (NOTE: blank paddles were about $85 per 1,000). The washers we purchased locally at R&E Fasteners in bulk. The paint paddles we purchased from American Paint Paddle Company.
You don't need this many for just one class. This is enough washers to make at least 3 class sets of washers – that's 8 bags of washers per class (1500 grams per bag – around 75-85 washers) 1,000 paint paddles is enough to make 66 sets of 15 per set (That's enough for 8 classes)
(These numbers are based on 8 groups of 2 – 4 students, per class – so a class of 32)
(NOTE: In the past we have gotten paint paddles for free from one of the big box hardware stores I won't mention here (*see bottom of page). Not wanting to count on always being able to get free paint paddles we checked into the cost (see above), which is fairly doable if the free option isn't available. The materials should last for a long, long time as well, there isn't a repeated cost every time you do the activity.
The washers are fairly expensive, about 11 cents each if my math is correct, so we are always on the lookout for a free or really cheap alternative. Please share any ideas you might have.
Remember – much more on this lesson available here – cantilever spans lessons.
Learning is messy!
Home Depot is the place … Lowes, and other stores' paint paddles tend to be warped, not straight, we've tried them all. So you can ask at your local Home Depot – we've had success when we explain what we are using them for.