Taken at face value, the results of most recent national polls seem to be "all over the place." Even the traditional live interviewer telephone polls have shown Democratic nominee Hillary Clinton leading Republican nominee Donald Trump by margins varying between 4 and 12 percentage points.
The variation has proven frustrating to political observers in search of a decisive response to recent campaign events, such as the debates, the early October release of a video in which Trump can be heard making sexually aggressive and lewd remarks about women, or the many reports about women who have come forward to complain about Trump's advances.
The less dramatic reality revealed by SurveyMonkey's ongoing election tracking polls is that voter preferences have remained relatively stable in recent weeks. Our most recent national poll, published on Tuesday by our partners at NBC News, shows Clinton maintaining a six percentage point lead over Trump (46 to 40 percent) among likely voters in a 4-way match-up that also features Libertarian Gary Johnson (8 percent) and Green Party candidate Jill Stein (4 percent). Clinton's lead over Trump on this measure has held steady at 5 or 6 percentage points nationwide for the past four weeks.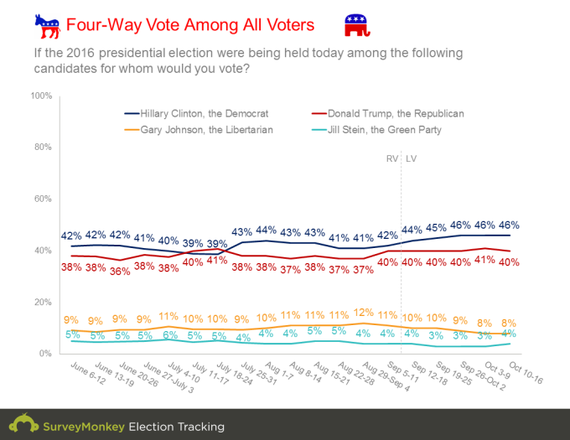 Taking a longer view, our tracking shows a less dramatic trend favoring Clinton since early September. Clinton's lead on the 4-way vote has expanded modestly among likely voters from 4 to 6 percentage points since mid-September. Clinton's share of the vote has increased two points (from 44 to 46 percent), offset by a similar decline in support for Johnson (from 10 to 8 percent), while Trump's vote has remained flat at 40 percent.
The HuffPost Pollster polling average shows a very similar, long-term improvement for Clinton, largely because they pool respondents across multiple polls of roughly one thousand interviews each. SurveyMonkey's tracking, which is now sampling well over 25,000 voters per week, accomplishes the same sort of "smoothing" but within a single survey.
Other results within our single survey also demonstrate the differences that questions and methodology can make in the precise margin separating Clinton and Trump. Clinton's six percentage point lead on the 4-way vote, for example, would expand to seven points (45 to 38 percent) among all registered voters who opt to participate in our surveys.
Clinton's lead over Trump expands to eight percentage points (51 to 43 percent) among among likely voters on a "two-way" question that asks about just Clinton and Trump, and to nine points (51 to 42 percent) among all registered voters on the 2-way vote.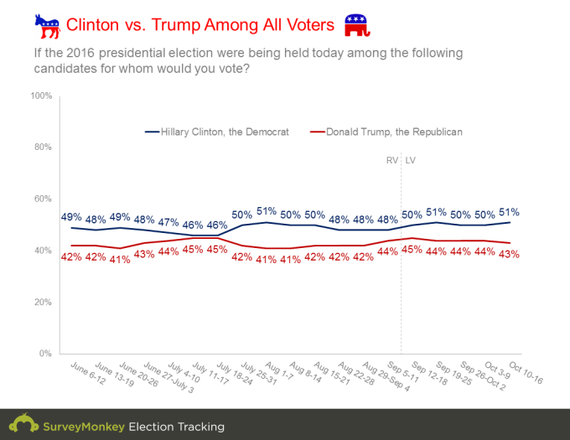 Even though Johnson and Stein will both appear on the ballots in 44 of 50 states, the final result will likely fall somewhere between the estimates from our 4-way and 2-way vote questions. First, support for both Johnson and Stein has been gradually declining. Second, those who opt for the third party candidates are far less certain of their choice. Third, polling questions that prompt for third party candidates typically overstate their support, even late in the campaign.
While the national story is more about stability over the fall campaign than big dramatic shifts, one important trend is nonetheless modest but real: Hillary Clinton has been gradually consolidating her vote among Democrats, while Trump continues to bleed support among Republicans to Clinton and the third party candidates.
Consider Democrats (defined here as registered voters who think of themselves as Democrats or independents who lean to the Democrats; we focus on all registered voters in order to take long term trends into account). Since early September, Clinton's support among Democrats has increased from 84 to 88 percent. Over the same period, support for Gary Johnson among Democrats declined from 7 to 4 percent.
These kinds of changes are usually washed out by the random variability that is common to subgroups of a few hundred respondents, but our national level tracking currently reaches more than 10,000 Democrats each week, so these small changes are statistically meaningful.
Over the same period, support for Trump among Republicans and Republican-leaning independents has been essentially flat, varying between 84 and 82 percent.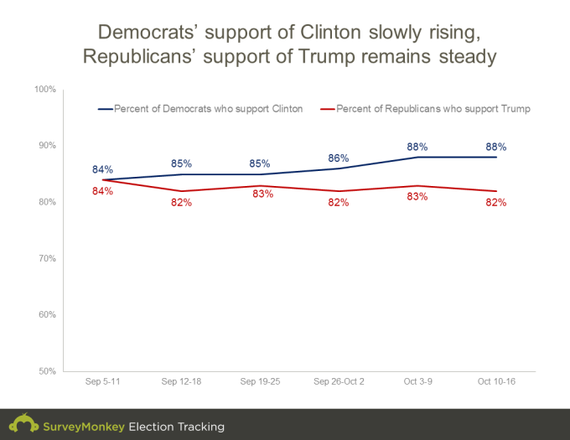 Trump's problem all along has been that he wins slightly less support from Republicans than Clinton wins from Democrats. While Clinton has been gradually consolidating her support among the Democrats, Trump continues to lose roughly 15 percent of Republicans to Clinton, Johnson and Stein.
At a moment when Trump badly needs to help win voters over, he has been at odds with national leaders, even those in his own party. Trump's unfavorable rating rose again over the past week - rising among all registered voters from 62 to 65 percent - in the wake of both his taped comments and the multiple women who have come forward with reports of his having kissed or groped them.
No, the tapes controversy and the other recent stories have not led to a dramatic change in voter preferences, but it has worked to reinforce the negative impressions that have held back Trump all along. That's the real impact and it is helping Hillary Clinton lock in an already substantial lead.
This SurveyMonkey Election Tracking survey for October 10th, 2016 through October 16th, 2016 was conducted online among a national sample of 27,512 registered voters. Respondents for this survey were selected from the nearly 3 million people who take surveys on the SurveyMonkey platform each day.
This article is cross-posted at the SurveyMonkey Election Tracking Blog.
-- This feed and its contents are the property of The Huffington Post, and use is subject to our terms. It may be used for personal consumption, but may not be distributed on a website.