, Psychedelic Sight: https://psychedelicsight.com/12729-record-roundup-q1-2017/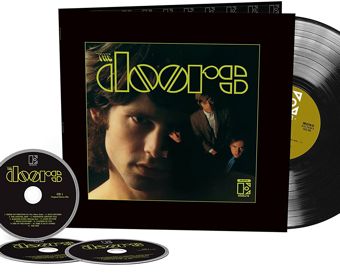 1967 ushered in the psychedelic era, loudly announced by a series of historic recordings.
Fifty years on, we're invited to celebrate the debut albums by the Doors, the Grateful Dead and Cream via splashy deluxe editions.
Other key reissues due in the year's first quarter come from Soft Machine, the Who, Jimi Hendrix, Sun Ra, the Yardbirds, Procol Harum and Pink Floyd.
The Doors' debut album - home of "Light My Fire" and "The End" - returns March 31 in a three-CD plus LP package dubbed "The Doors: 50th Anniversary Deluxe Edition."
The reissue features the compact disc premiere of the original mono mix, which also can be found on the box set's vinyl disc. The package includes a CD of the "The Matrix" live performance from March 1967, made up of eight songs from the debut album. The live tracks hail from the "recently unearthed" tapes from that San Francisco gig, apparently a vast improvement over those sourced for the 2008 Matrix album.
The stereo mix of the studio debut album - "remastered for the first time in nearly 30 years" - takes up the other CD. The box set includes a 12-inch-square hardback book with liner notes from critic David Fricke.
The pricey package - pre-ordering for about $65 on Amazon - isn't thrilling the Doors' faithful, many of whom have the complete Matrix show on bootlegs, as well as the mono mix of the debut album on a Record Store Day vinyl release from a few years back. "There is not one second of previously unreleased material in this box," one fan griped upon reading about the new box set.
Rhino is releasing "The Doors: 50th Anniversary Deluxe Edition." The usual downloads also will be available.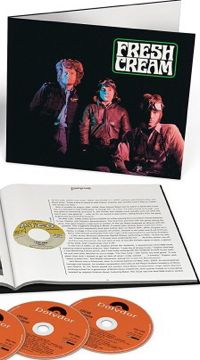 Cream's debut album, "Fresh Cream," celebrates its 50th year with a three-CD and Blu-ray set. Mono and stereo versions of the power trio's album, plus outtakes, alternate takes and demos, etc. Various BBC sessions. The Blu-ray offers 24/96 high-res versions of the U.S. mono and stereo albums along with bonus tracks. Jan. 27 via Polydor. A Japanese version is planned with SHM-CDs subbing for the three CDs. A vinyl version also is expected in several months.
The Grateful Dead also debuted in 1967, and their spotty first album returns on two CDs, fortified by early live recordings. "The Grateful Dead: 50th Anniversary Deluxe Edition" contains the original album - newly remastered from the original tapes by David Glasser - featuring key tracks "The Golden Road (To Unlimited Devotion)," "Good Morning Little School Girl" and "Morning Dew." The bonus disc of live Dead comes from P.N.E. Garden Auditorium in British Columbia, late July 1966, about six months after the Dead became the Dead. Also on offer, separately, is a vinyl picture disc, limited to 10,000 copies. Jan. 20 via the Dead's marketing arm.
The Who's "My Generation" album also marks a half century (albeit a bit late) with a three-LP edition. "A disc of mono mixes, another containing mono bonus tracks and a third with 11 demos." Eighty-page book and new liner notes from Pete Townshend. Geffen, Feb. 13.

Jimi Hendrix. Stand by for "the lost 1969 Jimi Hendrix single." The song is familiar enough - "Stone Free" - but this version hails from April 1969. The story goes that Reprise was to release that version of the song as a single, but called an audible and issued the 1966 take that remains familiar today. The 1969 version saw light only after Hendrix's death in one of those overdubbed versions. Sundazed has revived the 1969 "original performance" as a 7-incher, backing it with "Lover Man." Both sides feature Billy Cox and Mitch Mitchell. Due Jan. 13.
Soft Machine heats up takeaway "vindaloo for the ears" on "Live at the Paradiso," a live set from March 1969. Then a trio - of Robert Wyatt, Mike Ratledge and Hugh Hopper - Soft Machine would later release much of this material as "Volume Two" later that year. Real Gone's vinyl debut of the Amsterdam live set comes in a "soft" purple edition limited to 1,000 copies. Feb. 3. Also, the group's hard jazz album "4" re-released on CD, Jan. 20 (import).
The Flaming Lips return to studio action with "Oczy Mlody," their follow-up to 2013's "The Terror." The spin doctors say they're getting back to writing songs (12 of them). Enjoy on a standard vinyl disc or on two discs of orange vinyl (both with downloads). Via Warner Bros., Jan. 13.
The Monkees' psych-soundtrack "Head" was strange enough, but along comes the new "Head Alternate," with "first-time vinyl versions of 'Porpoise Song,' rarities like 'Can You Dig It' with Peter Tork's vocal, 'Daddy's Song' remixed with Davy Jones' slow verse, and the rare stereo mix of 'Circle Sky.'" Gold vinyl with gold foil cover. From Friday Music, March 3.
More Dead: The 2017 subscription series Dave's Picks closes Jan. 19. The picks so far: Vol. 21, a complete show from April 2, 1973, in Boston. Vol. 22, Dec. 7, 1971, at the Felt Forum in New York ("featuring the return of Pigpen"). The 2017 Bonus Disc will feature the bulk of the Dec. 6, 1971, New York show (other two picks TBA). These are limited numbered editions on CD.
Rick Wakeman, the prog rock keyboard wizard, takes a break from his sonic explorations with an album of cover versions. "Piano Portraits" offers classic rock fare such as "Life on Mars," "Space Oddity," "Help!" "Eleanor Rigby" and "Stairway to Heaven," as well as some actual classics: "Clair de Lune" and "Swan Lake." Available on CD and on a double-disc vinyl. Feb. 3 via UMe.
Sly & the Family Stone churned out a steady feed of hits in the late 1960s and early '70s. They're all here on "Anthology": "Dance to the Music" through "Que Sera, Sera." So what's new? Two discs of translucent gold vinyl as a limited edition. Jan. 13 via Friday Music.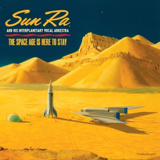 Sun Ra was famed for his instrumentals, but any fan knows the man from Saturn loved to mix in singing and chanting, too. "The Space Age Is Here to Stay" touches down with 16 vocal tracks, including "Space Is the Place," "Enlightenment," "Walking on the Moon" and "Interplanetary Music No. 1." With sci-fi artwork by Chesley Bonestell. One CD or two LPs. From Modern Harmonic, Jan. 13. Also available: A package of three 7-inch Ra singles: "Saturn," "El Is a Sound of Joy" and "Plutonian Nights." And "Spaceways," live on vinyl from 1966-68 (previously only Record Store Day), Feb. 10 via ORG Music.

Attilio Mineo put together "Man in Space With Sounds" for the 1962 Seattle Worlds Fair. "Beautifully textured space sounds with period-perfect narration" combine for a "cosmic eruption." On "cosmic swirly green and yellow vinyl" or CD. Jan. 13 via Modern Harmonic.
The Yardbirds turned psychedelic in their twilight years, due in large part to the guidance of Jimmy Page. The album "Sounds I Heard" (previously a Record Store Day title) returns on vinyl with some of their classic head-spinners: "Over Under Sideways Down," "Happenings Ten Years Time Ago" and "Dazed and Confused." Comes with a single-side 7-incher of Page's showcase "White Summer." Most tracks from BBC in "improved audio versions." From Easy Action, Jan. 27 (UK) and Feb. 10 (US).

Procol Harum's "A Salty Dog" pushed the English highbrow band into a commercial success of sorts. The nautical-themed album returns Feb. 24 on a Mobile Fidelity SACD. The title track, "The Milk of Human Kindness" and "The Devil Came From Kansas" remain highlights. The song "A Salty Dog" featured an orchestra, anticipating the band's greater successes with that expanded sound.
John Lord: Deep Purple keyboardist recorded "First of the Big Bands" with his pal Tony Ashton. The 1974 album's supporting cast included Jeff Beck, Ron Wood, Peter Frampton and Cozy Powell. Also, 1982's solo project "Before I Forget." Both on CD, Jan. 27.
Jethro Tull's most popular songs are spun through the classical cycle with "The String Quartets." John O'Hara arranged the music for the Carducci string quartet, recorded live in gnarly old churches with Ian Anderson doing the sermonizing. Two CDs or two vinyl LPs. Due March 24 via BMG.
Pink Floyd staggered forward without Roger Waters on 1987's "A Momentary Lapse of Reason." Mixed reviews met the loose collection of songs, many originally intended for David Gilmour's solo project. Most were recorded with minimal participation of the other two band members. The album memorably features the return of cover artist Storm Thorgerson. On vinyl, Jan. 20 via Legacy.
Also, "The Final Cut": Roger Waters did the heavy lifting on this 1983 concept album about war. "You can hear the mad tension running through it all," Waters said of the recording sessions marked by band infighting. Keyboardist Richard Wright is totally MIA. On vinyl, Jan. 20 via Legacy.
Mountain's live "Twin Peaks" spread the epic and masterful "Nantucket Sleigh Ride" over two sides. The band's second live album also included the classics "Theme for an Imaginary Western" and "Mississippi Queen." Recorded in Osaka, Japan, in 1973. Via Music on Vinyl, Jan. 13.
Larry Coryell's second album of electric guitar music finally resurfaces, making its CD debut via Real Gone. The heavy-jazz album features Ron Carter, Bernard Purdie and Albert Stinson. A must for fusion fans. Feb. 3.
Also of interest: "Sweetheart of the Rodeo" by the Byrds on colored vinyl (Jan. 27); "Joe Cocker" (debut) on SACD (Jan. 27) and "Mad Dogs and Englishmen" on vinyl (March 17); "All the Colors of the Spectrum" by the Spectrum on two CDs (import, Jan. 27); "Arthur Brown's Kingdom Come: Manchester Free Trade Hall 1973" on two CDs (import, Jan. 20); "Little Live Rooster" by Atom Rooster (Vincent Crane) on CD (import, Jan. 27); "Stand Up" (Steven Wilson remix) by Jethro Tull on single CD or vinyl (import, Feb. 17); and "Spy vs. Spy: The Music of Ornette Coleman" by John Zorn on vinyl (Jan. 27) …
Also: "Live in Tokyo" by Weather Report on red vinyl (Feb. 17); "Flowers in the Dirt" by Paul McCartney on vinyl (March 24); "Finest" by Funkadelic on vinyl ("January"); "Magnetic Waves of Sound" by the Move on CD and DVD (import, Jan. 27); "The GWR Years: 1988-91" by Hawkwind on three CDs (import, Jan. 27); "Return to Ommadawn" by Mike Oldfield on CD, vinyl and DVD (import, Jan. 20); and "Going for the One" by Yes on a picture disc (Jan. 20).
To be announced: From the sugar-shock shack known as TBA: "James Gang Rides Again" on SACD and vinyl; "Layla and Other Assorted Love Songs" by Derek & the Dominos on SACD and vinyl; "Shady Grove" by Jerry Garcia and David Grisman on vinyl; "Taste" (Rory Gallagher) on vinyl; "30 Seconds Over Winterland" by Jefferson Airplane on vinyl; "A Tribute to Jack Johnson" by Miles Davis on SACD; "When Doves Cry" by Prince and the Revolution on 12-inch single; "BBC Sessions" by the Zombies on vinyl; and "Puttin' on the Ritz" and "The Muffin Man Goes to College" by Frank Zappa - both two volumes.
Note: Release dates for vinyl and SACD titles remain fluid until they actually ship. This record roundup will be updated through the quarter. SACDs are all hybrids unless specified otherwise; they'll work on a CD player not offering advanced resolution.