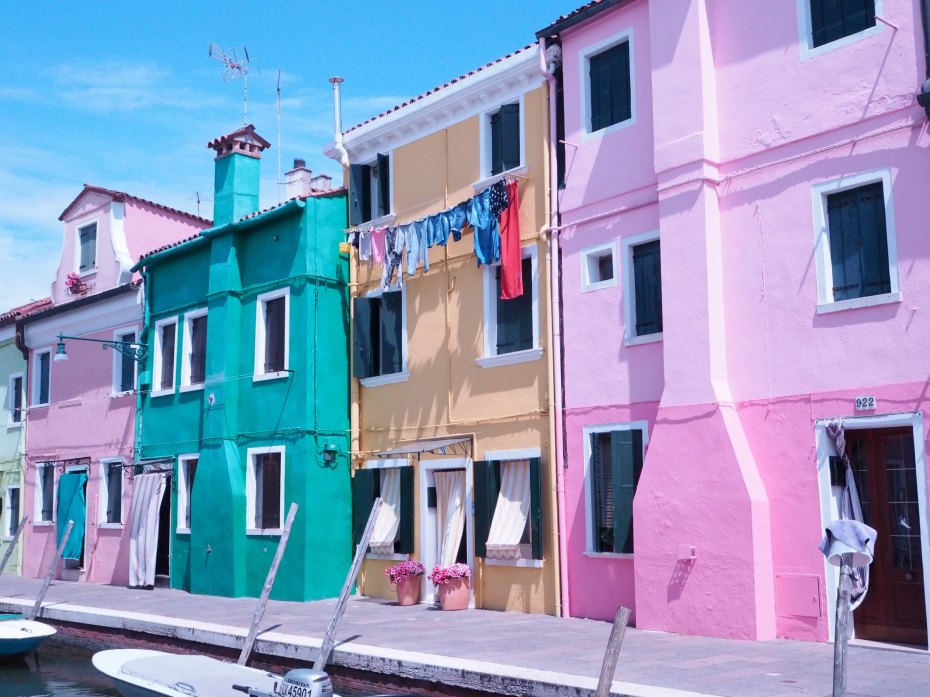 Wearing: dress // hat // sandals // bag // bracelets // sunglasses // necklace
As those who follow me on Instagram, Twitter and Snapchat will know, last month my Fiancé and I headed to Italy for the most marvellous vacation (and some much-needed sunshine; England was in the throes of a very gloomy June). I thought I'd start with our day trip to the Venetian island of Burano; quite simply one of the lovelies places I have ever visited.
Whilst I had seen plenty of pictures and knew to look for the colourful houses, I hadn't expected the entire island to be such a charming, brightly-hued rainbow. Traditionally, the houses were painted in bright colours so that the village fisherman could find their house in even the darkest storm when they returned each evening, and every single house really does look like that (or, as we say over on Instagram, #nofilterrequired). Nowadays the whole island is a UNESCO world heritage site so that the tradition is officially protected, and if homeowners wish to change the colour of their house, they have to apply to the government – who respond with a list of available colours to choose from so that no two neighbouring properties are the same.
As soon as you arrive at the dock, you'll see what I mean. And it only gets prettier from there. We were lucky to have blazing sunshine and cornflower blue skies for our visit, and as we stepped off the main canal and explored the little alleyways, I couldn't help but think how those sunbleached, cheery houses – with their laundry hanging from the windows, children playing happily in the streets, and contented cats lazing in the shade – looked exactly as they might have done a hundred years ago.
Given Burano's small size, it hardly requires a 'guide' to what to do – instead the best thing is to simply walk down each canal and colourful side street, discovering your own secret corners and favourite spots yourself. But nonetheless, here are a few tips to make the most of your visit:
Good to Know // Burano is an island in the Venetian lagoon and is a leisurely half-day trip from 'mainland' Venice. The easiest way to get there is to either take a private water taxi or the number 12 vaporetto (water bus) which runs frequently, takes the same time as a taxi – around 40 minutes – but only costs €7.50 each way. Go early or late afternoon to avoid the largest crowds if you can (but don't be put off either way, as the crowds quickly disperse between each vaporetto arrival).
Do // Burano is really a tiny little island; there are no roads – only footpaths and canals for the fishing boats – but you can walk the entire island and all it's side streets in a couple of hours (add in another couple of hours for lunch and pausing to take approximately 16,000 photos along the way). There aren't many shops on the island – which helps retain the traditional charm – but if you like lace, then be sure to stop into one of the little lace shops for the authentic lace linens the island is famous for (I'm still regretting the fact I didn't buy a lace parasol and a stack of beautiful handmade napkins).
Eat // We had heard great things about Trattoria al Gatto Nero (my friend Julia had gone there earlier in the year), and the name – which translates to The Black Cat - had us sold, but when we arrived there wasn't a free table to found until fully three days later (moral of the story: book ahead). My friend Alex had also recommended Trattoria da Romano, but both the restaurant and street looked a little too crowded with tourists when we passed. So instead we simply followed our noses and ended up at the charming, pastel pink Riva Rosa Enoteca, which turned out to be the very best choice of all. We had big plates of spaghetti alla vongole (a local specialty, pictured below) outside at one of the tables overlooking the colourful canal, and it was quite simply one of the most delicious, memorable meals I've ever had.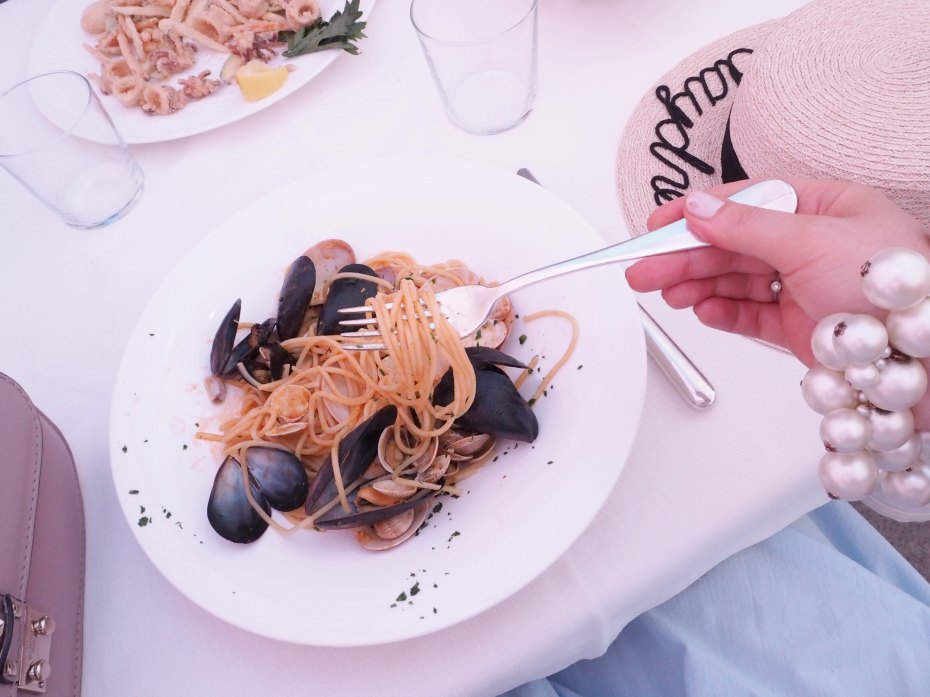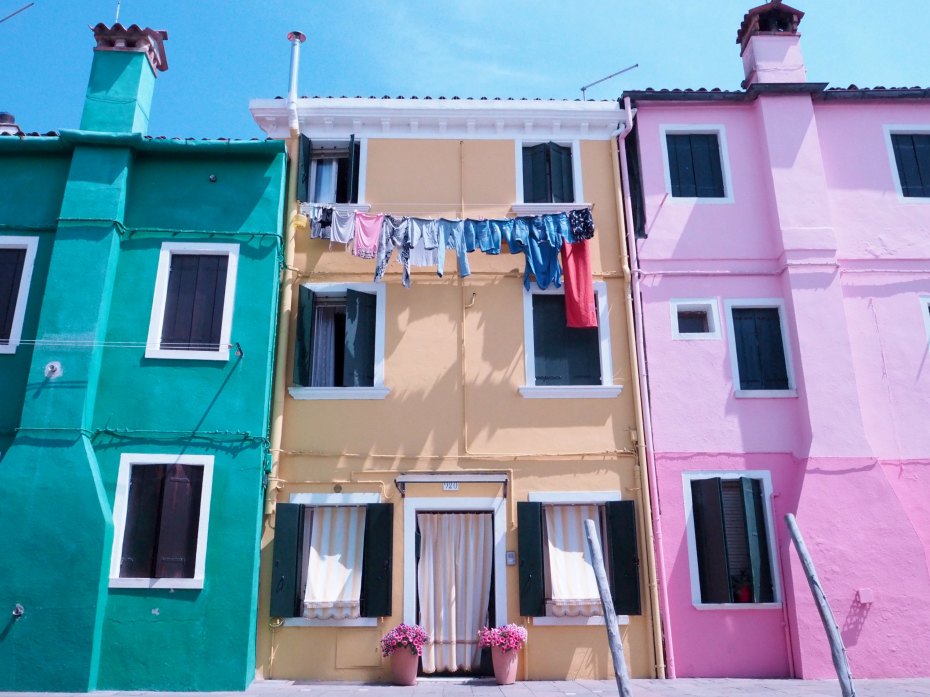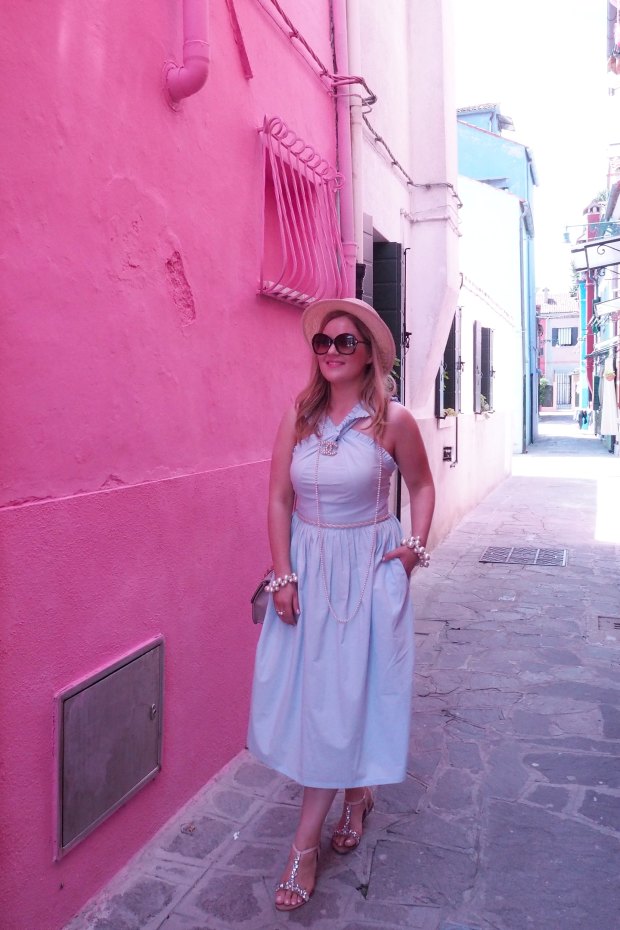 Wearing: H&M dress // Eugenia Kim hat // Valentino bag (mini version here) // Dune sandals // Kenneth Jay Lane bracelets (necklace version here) // Tom Ford sunglasses // J.Crew necklace // Chanel brooch.
Beauty: Chanel 'L'Eclatante' lipstick // MAC 'Dollymix' blush // James Read tan // Essie 'Limoscene' nail polish
There was just something so magical about Burano, and I couldn't help falling a little in love more in love with each street we explored. I'm so glad that places like this – frozen in time and still retaining every ounce of charm and history – still exist in the world. I can't wait to return one day.
Stay tuned for Venice, Florence and Bologna soon!
Love, Miss B xx
Shop the post:

Turn on your JavaScript to view content