Rockets and High Altitude Ballooning Yet To Come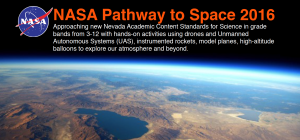 I announced the NASA Pathway to Space class for teachers about a month ago:
"Starting next week a team of educators (including me) will be providing a class for local teachers of grades 3rd – 12th which will include hands-on training in building and flying drones, rockets, planes and designing payloads which we will then launch on a high altitude balloon to somewhere between 65,000 to 100,000 feet."
I mentioned at the time how, along with the training, teachers would receive a drone (UAV) and build and keep another as part of the class. The first 4 classes focused on drones. Not just building and flying them, but on the laws and ethics that teachers and students must take into account in using them.
Below: Kirk Ellern from "AboveNV" explains some of the rules and laws around drone or UAV use.
Above: Participants getting the hang of flying their new drones (cost just less than $50 including remote).
Learning to fly the little drones is actually more difficult than the larger ones which is why Kirk Ellern and Rob Dunbar from AboveNV suggested using them. "If you can control one of these little fairly indestructible guys, piloting the larger ones is relatively easy."

Next, each participant built a "chuck" plane from a kit – so named because you throw or "chuck" it to make it airborne. However, these planes are designed to have a motor, remote control and more added to them if one wishes to do so.
Teachers building their planes, YouTube videos demonstrate each step of the building process.

Above: A first flight
So they'd be ready to fly larger drones they were given time with flight simulator software.

We designed this class so that we meet on 2 to 3 Tuesday evenings to learn about and build drones, rockets, balloon payloads and then on a Saturday to fly what we've learned about and built. We were ready now for our "Drone Saturday" – so we met on a soccer field at a local high school and thanks to "AboveNV" and friends bringing multiple drones of all sizes we learned about and flew drones for hours. This included flying some while wearing goggles that see through a camera on the drone, so you are flying the drone like you are onboard.
We really lucked out in that there was not a puff of wind all morning which made it easy to fly all the different sizes and types of UAV's (Unmanned Aerial Vehicle) we had available. Here's a link to all the photos from our "Drone Saturday."
Up next is rockets!
Learning is messy!