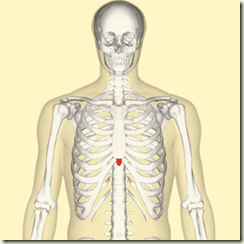 How well do you know your own body? I don't mean the stuff you can actually see, like fingers and toes.
I mean the stuff lurking inside.
For the last few months, I've noticed a "thing" at the top of my rib cage, under the skin, that I could only guess was a golf ball-sized tumor. Because that's what you always think weird new things are that show up on your body.
I'd notice it after a shower when I raised my arms to put on deodorant.
Hmmm. Right. Probably a tumor and I'm dying.
If you're like me, and you think you have a tumor and you're dying, what do you do? Well, you wait months thinking the tumor will just go away.
Then when it doesn't, you turn to Dr. Google.
You enter things like "What's that knob above your rib cage?" Or, "What organs are protected by the rib cage?" Or, if you think Dr. Google will understand your meaningless symptom, you ask "Do I have a tumor? It's golf ball-sized. Am I dying?"
You will, of course, get no results you want to read because they're all about people with actual tumors and how they found them and then you get all sweaty and nervous and end your relationship with Dr. Google immediately.
Then after weeks of continuing to ignore it, you finally have a wellness visit with your doctor.
I went yesterday.
"So, doctor, I have this thing. It's probably a tumor. You're going to tell me I should have come in sooner for this and that because I didn't, I am now actively dying from it. Here, have a look-see."
I took off my shirt and bra and raised my hands over my head.
"See it? Tumor, right?"
He felt around. I waited for the ax to drop.
"No, Kathy. That's your Xiphoid process."
"The Xiphoid what?"
"Everyone has one. Here, feel mine."
My doctor gestured to the same area above his rib cage where my knobby thing is located and he asked me to press it. His was harder than mine. He probably has a tumor.
He went on to call up the Xiphoid process on the Internet and show me pictures. In a nutshell, the Xiphoid process is a small cartilaginous extension of the lower part of the sternum which is usually ossified in the adult human (which means it creates new bone over time).
Oh.
I then asked my doctor when he goes out to happy hour with his doctor friends to please not mention the "stupid patient who came in today and doesn't know jack about her body." But he probably will and he probably should because hell, I would.
The only reason why I figure I noticed this now is because I've lost over 50 pounds in the last six months and I'm guessing my Xiphoid process had previously been concealed by a thick layer of fatty fat.
So, folks, you have stuff in your body you may not know about. And you have a Xiphoid process that you might want to poke around for just for fun. Do not be alarmed. When you find it, it's not a tumor. Probably not.