by Adrian D. Pantoja, Ph.D.
Since the launch five weeks ago of the NALEO Educational Fund/Noticias Telemundo/Latino Decisions tracking poll, Democratic presidential nominee Hillary Clinton has enjoyed a commanding lead among Latino voters. In the first week she led by 53 points (71 percent for Clinton vs 18 percent favoring Trump). By week three, her lead had grown to 57 points (73 percent for Clinton, 16 percent for Trump). Today, the gap stands at 61 points: 75 percent to 14 percent. Winning the Latino vote so decisively, combined with the vote of other critical segments of the electorate, puts Clinton on a path to victory. Our polls also show that Latinos are strongly backing congressional Democrats.
But Latino support for Hillary Clinton and other Democrats is not solely driven by what they see as Republican presidential nominee Donald Trump's racist campaign. Rather, the data show that Latinos are supporting these candidates because they believe Clinton and Democratic members of Congress will better address the policy needs of their community. So what policy issues matter most to Latino voters?
Each week, we have asked respondents to state what are the most important issues facing the Hispanic/Latino community that they think Congress and the President should address. Responses were categorized into 15 different policy areas. Below are the top five issue areas listed over the past five weeks.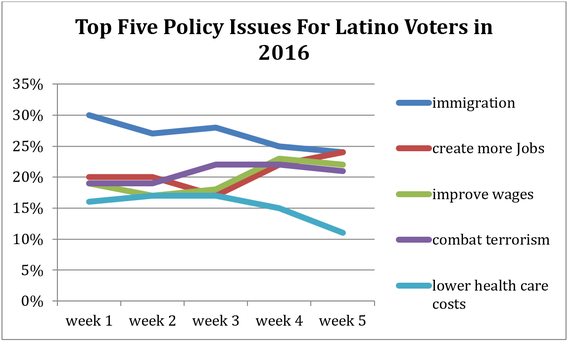 First, immigration, namely the passage of comprehensive immigration reform, emerged as the top policy issue for Latino voters, although its relative importance has declined over the last five weeks. Latino Decisions has been tracking this issue for many years and has extensively documented its importance to the great majority of Latinos. One of the main reasons immigration factors in so prominently is that this issue personally touches a large proportion of Hispanic voters, who are by definition U.S. citizens.
In the Latino Decisions 2014 Election Eve Poll of Latino midterm election voters, 58 percent nationally and 65 percent in the key swing states of Colorado and Nevada reported that they know a family member, friend, co-worker, or someone else who is an undocumented immigrant. In a June 2013 national survey of all Latino registered voters, 67 percent said they personally know someone who is undocumented. Among them, half said it was someone in their family. In short, the importance of this issue is unlikely to fade until comprehensive immigration reform is realized.
But Latinos are not single-issue voters and immigration is not the only policy that matters to them. Economic issues, particularly having access to jobs and better wages, also factor in prominently. In week five, creating more jobs tied with passing comprehensive immigration reform as the top issue. Despite the decline in the unemployment rate since 2010, Latinos continue having higher levels of unemployment than non-Hispanic whites. According to data from the U.S. Bureau of Labor Statistics, Latinos currently have an unemployment rate of 6 percent, 2 points higher than that of whites.
Being employed is important, but so is having access to well-paying jobs. According to one study, in 2015 the average hourly wage for Latinos was $14, which is $7 lower than the average for whites. Another study noted that Latina women earn a mere 55 cents for every dollar a white male earns. In short, despite overall improvements in the economy, Latino employment rates and earnings continue to lag behind those of white Americans and remain important issues to Hispanic voters.
Combating domestic and international terrorism also emerges as an important issue. The well-publicized terrorist attacks in the U.S. and abroad has made this a salient issue for all Americans. A number of prominent social scientists argue that these attacks improve Donald Trump's support among voters. As one political scientist argued, "America may be one major terrorist attack from Donald Trump as president."
Although this assessment may capture the attitudes of white Americans, it does not appear to reflect those of Latinos. In week 3 of the tracking poll, we asked, Which candidate you do trust more to keep Americans safe from domestic and international terrorism, Hillary Clinton or Donald Trump? Sixty-eight percent of Latinos picked Clinton, while only 11 percent said Trump. By week five, trust in Clinton on this issue declined to 61 percent, though it remains significantly higher than Trump's 18 percent. National security is important to Latinos and they believe Clinton has the experience to protect the country more effectively.
The last of the top five issues for Latinos is having access to affordable health care, although its importance has declined across the five-week period. Other polls by Latino Decisions have shown that Latinos strongly support the Affordable Care Act (ACA). In a separate study with the Robert Wood Johnson Foundation Center for Health Policy at the University of New Mexico, we found that the ACA has dramatically reduced the number of Latinos who are uninsured. Nonetheless, the same study shows that a large segment of the Latino population experiences under-insurance or gaps in coverage. Rhetoric surrounding the increase in insurance premiums is a contributing factor driving Latino concerns. While the ACA is not without its flaws, Latino voters favor electing a president and Congress that undertake additional reforms to expand access to affordable health insurance.
The recent and widely noted implosion of the Trump campaign and evident divisions within the Republican Party suggest that Hillary Clinton and the Democrats are headed to a major win in November. Nonetheless, this expected result is not merely due to one side's disastrous campaign performance. For Latino voters and others, support for Hillary Clinton and congressional Democrats is driven by the expectation that their policy needs will in turn be addressed. For Latinos, the passage of comprehensive immigration reform remains a top policy issue. However, they also care about other issues such as access to jobs, better wages, national security, and affordable healthcare. Should these needs be met in the next few years, we would anticipate that Latinos will remain Clinton's "firewall" and strong supporters of the Democratic Party in future elections.
Adrian D. Pantoja, Ph.D., is a Senior Analyst at Latino Decisions, Professor of Political Science at Pitzer College
-- This feed and its contents are the property of The Huffington Post, and use is subject to our terms. It may be used for personal consumption, but may not be distributed on a website.