My family and I don't always agree on everything travel-related, but we do agree that one of the best family vacations we've taken was a few weeks in Germany. We first stayed in Berlin, one of Europe's most interesting cities in modern history, and then took a couple of train and road trips outside Berlin. Berlin is such a bustling, crowded and internationally popular city that day trips to relative countryside helped our family reconnect. For a city break, our favorite Berlin road trip by car in Germany was our Potsdam day trip.
We rented a large van because we were traveling with a Berlin cousin and his family. Potsdam, which is around an hour by car southwest of Berlin, is the capital of Brandenburg (a German state) and lays on the Havel River. It's so much quieter than Berlin that visitors might forget it's a city in its own right! In fact, a Potsdam day trip from Berlin makes a lot of sense for active travelers who aren't afraid of getting up early and getting back to their Berlin "home base" hotel at night.
The main attraction of Potsdam is Park Sanssouci. I'd wager that nearly every Potsdam day-tripper spends at least a couple of hours there; we spent the entire day wandering the palaces and expansive grounds. Park Sanssouci was created by Frederick the Great to contain a huge variety of gardens and parks, along with palaces and buildings of late Baroque architecture; this 1700's Rococo style is highly ornamental and elaborate. It's a familiar look to those of us who watch period dramas, but seeing the ornamental interiors and actual Baroque art "in person" can make a significant impression on historic travel fans.
The first palace we saw was Neues Palace, which means "New Palace," and while at the time it WAS the newest of the palaces built in Park Sanssouci, it was constructed in 1763 and completed in 1769. In other words, this "new" palace was finished before the United States was an independent country! I tried to impress my kids with this fact, but they found the gardens more fascinating since they were allowed to run around like little maniacs there. Perhaps someday, when they are adults, my kids will appreciate historic travel as much as I do. This is the last great Prussian palace of its style, and was undamaged in World War II.
Not a lot of Potsdam, in fact, was damaged during WW II, because most of the damage sustained by Germany in this area was in and closer to Berlin. We walked from Neues Palace to the Chinese Teahouse; the stroll, through beautifully manicured gardens with scattered statues, allowed more time for my kids and their cousins to run and climb and, well, appreciate Park Sanssouci in their own ways. Like the rest of Park Sanssouci, Frederick the Great had the Chinese Teahouse built in the 18th century, but the Chinese Teahouse is interesting in that it indicates the contract between German gentility and Chinese culture and fashion of the time. Frederick the Great, apparently, appreciated the feeling of escape to a far-off world when he stopped by the Chinese Teahouse.
Then, at the far end of Park Sanssouci, we found the Schloss Sanssouci. The Rococo architecture is seen in fine form here as well; all the highly decorated and extravagantly designed rooms that are available for tours can almost overwhelm our senses. Schloss Sanssouci is smaller than Neues palace, but was the actual summer residence of the Frederick the Great and the royal family in its heyday. And even though it's technically "smaller," doesn't mean it's small!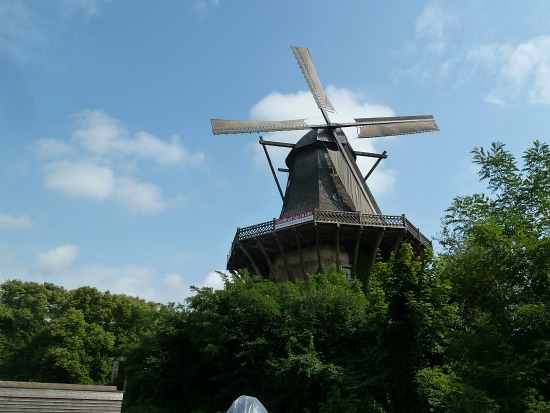 The last spot we visited on our Berlin day trip to Park Sanssouci in Potsdam was the Historische Muehle, or Historic Windmill. It's back near the palace. The original windmill preexisted the summer palace of Frederick the Great, became dilapidated eventually and was rebuilt in the late Baroque period of the mid-1700's. This one actually did suffer destruction during World War II. This modern (1993) recreation is a working windmill, a reproduction of the second 1700's version, and bread baked with Sanssouci flour is available for purchase at the museum shop.
After a day of wandering through Park Sanssouci, the younger kids were wiped out, and the toddler could barely keep his eyes open. We decided to forgo an early dinner at a Potsdam biergarten and instead piled back into the rental van. My daughters and their cousins slept the entire car trip back to our "home base." A Potsdam day trip from Berlin was more than just doable, it was the ideal way to spend a terrific day with our German cousins.
This post was written in partnership with Alamo.
Save