Show of hands: who here has a teen driver, or a preteen already talking about learning how to drive? It's nerve-wracking, it's scary, it's a rite of passage for kids and adults, and it's a part of parenting for most of us. Now, parents know that an important part of raising happy, healthy and successful teens is role modeling the behavior we hope to see in our kids. Being good role models to those eye-rolling, sassy teen creatures may not always seem effective, but believe me, those boundary-pushing teenagers are still watching how we act. Liberty Mutual Insurance and SADD (Students Against Destructive Decisions) conducted research and found that parents being good role models for their teen drivers is an important part of this rite of passage.
Tips for Parenting Teen Drivers:
Yes, we worry, but helicopter parents may be inadvertently adding more distractions and hazards for their teenage drivers.
According to a new survey of 1,000 parents, commissioned by Liberty Mutual Insurance and SADD, half of the parents have knowingly sent their teens text messages while the teens are driving.
Furthermore, 29% of parents expect their teens to respond to those texts prior to their arrival at their destinations, i.e. while the teen drivers are still driving!
The study also shows that, implicitly, teen drivers see texts from their mothers as more important to respond to immediately than texts from other family members, or from friends. This can mean that they are even more likely to respond while driving.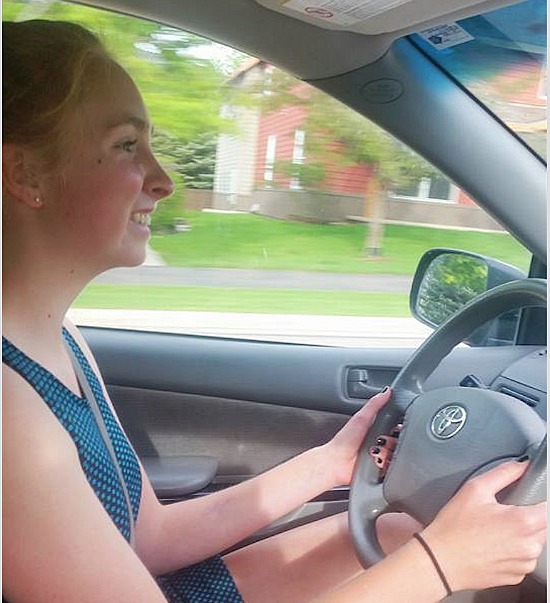 We can see from this study that parents still play a very important role in their teens' lives (despite the aforementioned eye rolls). In terms of parenting teen drivers, Liberty Mutual Insurance and SADD has tips to help parents help their teen drivers be less distracted while driving; all of these involve positive role modeling rather than hyper-vigilant helicopter parenting.
Set firm and fair boundaries: Unfortunately, several studies have shown that parents are often poor role models behind the wheel. Parents speed, talk and text on cell phones, yell at other drivers and generally do many of the things they tell their new teen drivers not to do. While they may not admit it, teens need and want boundaries. They want to know what is acceptable and unacceptable behavior. They want those boundaries to be firm and fair.
My take: Parents should be good role models while driving. This means, don't text and drive, don't speed, don't be an aggressive "road rage" type of driver, and in general practice the same safe driving habits we are instilling in our teens. Teens actually want and need boundaries, no matter how much they argue and push against them. Keep those boundaries and restrictions in place.
Use a discussion guide: I've talked before about the Teen Driving Contract that Liberty Mutual Insurance and SADD created. It's a terrific starting point for open discussion about the responsibility of driving a car. The rules involved are agreed to and signed by parent and teen alike, but beyond that, are meant to be talked about openly and honestly.
Be transparent and real with teens: Teens want to be praised for good driving behavior; not just be reprimanded for poor decisions. They also want parents to make an extra effort to understand their world and the peer pressures they are under – most likely, parents felt similar pressures growing up as their children do now. Most importantly, it's important for parents to lead by example.
My take: Our teenagers don't always believe we adults can relate to peer pressure, academic pressure, and other stressors of adolescent life, but us showing that we are trying to understand them, and empathize, goes a long way. It's easy to only critique mistakes new drivers make behind the wheel, but complimenting teens for good driving behavior and their learning curves is important, too. We can talk about mistakes we made when we were learning how to drive; while teens may act like they are bored by our "back in my day" stories, this transparency also gives them permission to not be too hard on themselves for typical new driver mistakes.
Set a good example: More than a quarter of parents admit to not following the same rules required of their teens when it comes to texting, speeding or talking on the phone while driving. Parents should keep their own behaviors in mind to avoid becoming an added distraction to their teen driver.
My take: In the vein of transparency and positive role modeling, parents ought to be conscientious and conscious of our own behaviors. Besides the already discussed avoidance of texting and driving (etc.), we should do our best to refrain from texting our teens when we know they are behind the wheel. While we should instruct our teens to put their phones away or on "do not disturb," sometimes they won't, and the last thing we should do is become an added distraction to our teen drivers.
Don't stop practicing: Teen drivers can easily get into bad habits when they are behind the wheel and parents should continue to coach and talk to their teen about different driving situations. Ideally parents should spend at least a half hour a week in the car with their teen driver and provide pointers in real time to help them worry less.
My take: Liberty Mutual and SADD remind us that teen drivers can easily get into bad habits that are hard to break, so the care and vigilance we incorporate into teaching them how to drive continues after they have some experience under their belts. We should try to expose our teen drivers to different driving situations (highways, inclement weather) while we're still in the passenger seats to provide pointers, advice, praise and support. My own teen driver has had her license for a year now, and I have a younger teen almost old enough to start studying for her learner's permit. I did my best to be a good driving role model for Kid #1, and I'll continue to be as good a role model as I can be for Kid #2. Driving is a privilege in our house, and my teen driver is great. In fact, she drives her sister and another student to school most days, and hasn't had a driving incident yet. Knowing that she knows about the importance of distraction-free driving gives me peace of mind…well, as much peace of mind that a parent of two teenagers can have, at least!
Awareness of the study, and incorporation of the above tips, should help other nervous mothers of teen drivers find their own peace of mind with this rite of passage.
For more information, visit www.libertymutual.com/teendriving
Disclosure: The Vacation Gals travel blog is a paid member of the Liberty Mutual Ambassador Program.