Trendy Doors for Your Home
When it comes to design, highlighting the entrance (or exit) to a room can be a knockout focal point in your space. So much of architecture and design focuses on the sense of entry into a building or space, because it sets the tone and the expectations of any visitor. Many people consider this to be especially true for their front door, but often don't consider applying that same idea to interior doors. Finding a unique or interesting door style can create a design element that goes beyond the simple function of an everyday door. Here are five great trends for doors in your home:
1. French Doors
This style is always a classic door for any style of home, there is longevity to this design feature and can give a great sense of entry to a dining room, home office, or entertaining space. You can have the added advantage of treating these doors similar to windows by installing window treatments for added design and privacy. Many people are using French doors with a modern twist. Some use metal doors with larger window panes or even forgo any dividing of the window and install glass doors. One elegant design solution is to install full-height French doors, where the doors run from floor to ceiling.
2. Barn Doors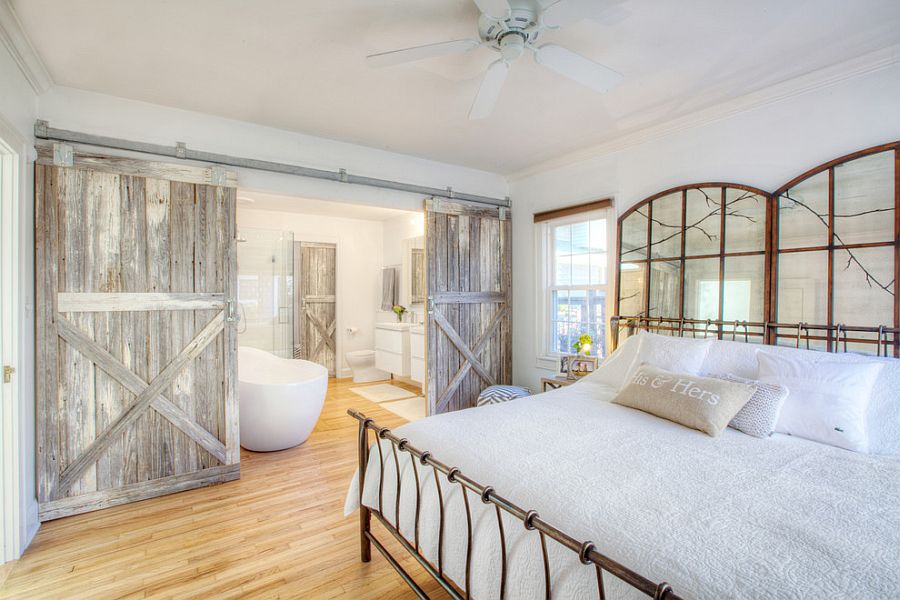 Barn doors are now being used as a feature wall or art piece that has a practical application. There is something intriguing about being able to see the exposed hardware and how the door functions that makes it a great design piece. It is a great design solution for a variety of spaces. If you don't have the room for a swinging door or the interior wall thickness for a pocket door, the barn door is a great way to enclose a space artfully.
3. Flexible Doors
Hardware advancements have made it possible to transform rooms with the flexible door. This increased flexibility can make a home more fluid, two smaller rooms can open up and become one large gathering space. This can be designed between dining and living areas, or more popularly between indoor and outdoor spaces. The benefits of enjoying the outdoors are widely heralded as having positive effects on a person's wellbeing, and a report from the University of Rochester states "that 90 percent of people report increased energy when placed in outdoor activities". Previously, opening your interior and exterior was limited by sliding doors or a wall of French doors, but now doorways can become wide open spaces to benefit you and your family's well-being.
4. Pocket Doors
Pocket doors have been a part of classic design for years and was popular in Victorian architecture. Yet, the classic design of a pocket door is a very modern way to save space and bring in some high design. Similar to movable doors, it is a great way connect two spaces into one (especially if you install double pocket doors), and similar to the barn door there isn't a need for a door swing. When you design your home with pocket doors, you can use the hidden aspect as a design feature, by considering what the door itself will look like. By playing with the material, it can be a nice reveal when opening or closing the doors. Materials might include the traditional paneled wood doors, they could be an industrial style door with metal rivets, or even a glass-paneled door.
5. Hidden Doors
There is something both romantic and calming about having a hidden corner of your house all to yourself. Sometimes it is a place for respite and other times it is for finding a truly private spot among the more public areas of the home. A hidden door to your quiet corner of the world is a design feature that can be elegant in design and a wonderful surprise feature to those you share it with. You can welcome your friends into your library, your wine tasting room, or even a playroom for your kids. It is one door trend where the design of the space behind it is limitless. Check out our full range of hidden door options and begin imagining what will go behind your hidden door.
Sharable Quote: "Finding a unique or interesting door style can create a design element that goes beyond the simple function of an everyday door."