By now you have seen the trailer for Season two of Voltron Legendary Defender. We loved this show as a family. I was fortunate enough to get a sneak peek at the show at DreamWorks Animation Studios last year and it was so hard to wait for the first season to start. It has been even harder for the second season to get under way but that is all about to change tomorrow. So, to get you excited take a look at a whole bunch of stills and videos that I have to share with you including some downloadable activity sheets and more. But first, let's check out that season two trailer.
The kids really enjoyed watching Voltron with me and they were not happy to see the lions all get dipersed in the Wormhole catastrophe. Well, it looks like that isn't the worst of it as you can see from these additional videos. For instance, what is happening to Allura and Coran and the Castle?
Wormhole Catastrophe

But it looks like Pidege is actually having a tougher time of it. She is alone on a planet of Garbage and looks like she is either cracking up or trying to keep from going crazy with her new friends. Think Wilson in Cast Away.
Pidge's Garbage Buddies

But I am confdent that Volton will once again reform and stand tall.
I wonder what is going on with the Blue and Yellow lions. It looks like Lance has picked up some new moves.
Well, not from that photo but from this video below.
But the character I am most concerned about is Shiro. Why? The trailer makes me think that something will happen to him and I like Josh Keaton and think he is a great voice actor. I don't want anything to happen to his character. What might be happening in this image?
To help you with the wait for the show you can always download this activity sheet and make your own mask and sword.
then, once the season starts you can make sure that you are not interrrupted with this great doorhanger.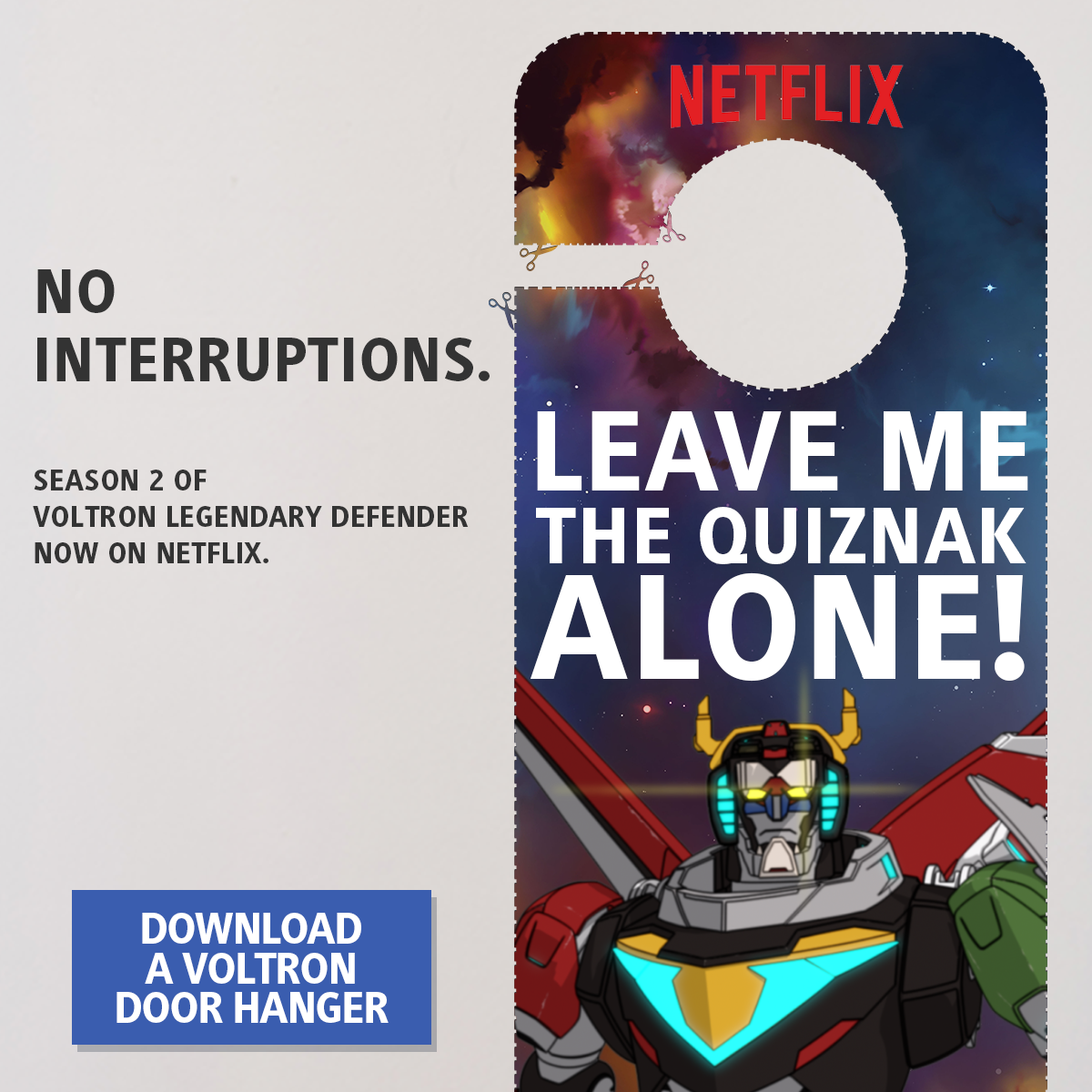 Tomorrow it starts, so let the binging begin!
About Voltron Legendary Defender Season 2
Following the season one cliffhanger, Team Voltron has been scattered throughout the universe in the aftermath of a perilous battle with Zarkon, Haggar and the evil Galra Empire. Working to bring the lions back together to form Voltron again, the Paladins' plan to defeat the Galra once and for all takes them across the universe in search of new worlds and unexpected allies. Find out if their plot to take down Zarkon succeeds when Season 2 of DreamWorks Voltron Legendary Defender premieres on Netflix January 20, 2017.
About DreamWorks Animation Television:
DreamWorks Animation Television is one of the world's leading suppliers of high-quality, animated family programming, reaching consumers on linear and on-demand platforms in more than 130 countries and garnering 31 Emmy Awards to date. It is a division of the Universal Filmed Entertainment Group (UFEG).
About Netflix:
Netflix is the world's leading Internet television network with over 83 million members in over 190 countries enjoying more than 125 million hours of TV shows and movies per day, including original series, documentaries and feature films. Members can watch as much as they want, anytime, anywhere, on nearly any Internet-connected screen. Members can play, pause and resume watching, all without commercials or commitments.