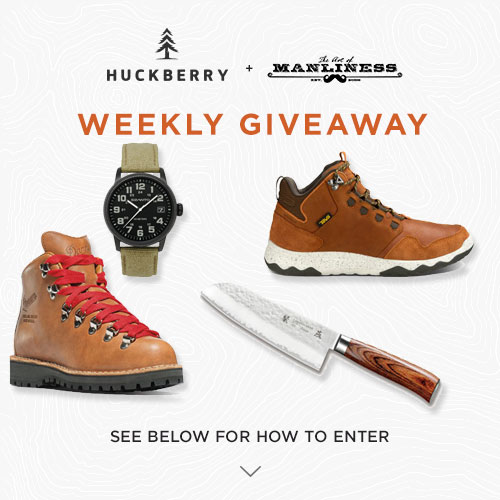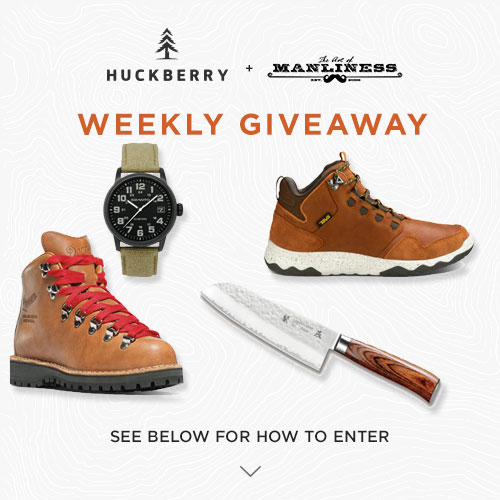 Last week's winner was Jason W. from Tucson, AZ. He and his wife had a baby just this morning and was thrilled to find out he won! Baby+bonus — it's a banner day! Jason chose the Ipanema shoes.
My Picks This Week
Just as every man should have a good pocket knife, every man should have a decent kitchen knife. The steel that Tamahagane uses in their knives has a lineage that traces back to the samurai. Really. So it's no wonder it can effortlessly slice through any food that finds itself on your cutting board.
Szanto watches are inspired by vintage military and aviation designs. But not only do they look cool, they'll hold up to all your adventures with a stainless steel case and water resistance up to 100m. Combine that with comfy straps, and you've got a timepiece that deserves a spot in your collection.
Finally, we'd be remiss not to feature Huckberry's Adventure Boot Shop. They've long had a dress boot shop — shoes you wear for work, dates, get-togethers, etc. But now they also have a boot shop for when you need something more rugged. Featuring legendary brands like Danner and Teva, as well as some new kids on the block like Lems and Ridgemont Outfitters, you're guaranteed to find something that's just right for your outdoor pursuits.
The Prize
Any item currently available on Huckberry (up to a value of $500). Be sure to check out the current line-up of items as it changes every week.
Enter the Giveaway
If you are an email subscriber, do not reply to this email to make your entry. You must click on the title of this post, which will take you to the post on our web page where you can make your entry. Use the form below to enter. Don't forget! You have multiple ways to enter! The more of them you do, the better your chances are!
The Weekly Huckberry Giveaway 8.11.16
Deadline to enter is Wednesday, August 17, 2016 at 5PM CT. We'll then select one random winner. Good luck!